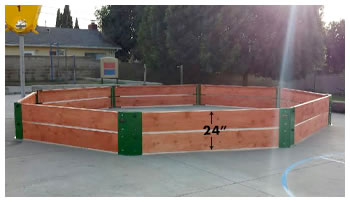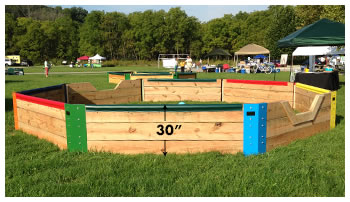 You purchase your wood locally to save on shipping cost.
Our suggestion for wood is to purchase 8ft or 10ft treated or untreated wood.  See below for the number of boards needed for each GaGa Ball pit model.
REMINDER: Wood needs to be purchased from your local home improvement store or lumber yard.
| | | |
| --- | --- | --- |
| Model | Boards Needed for Permanent/Semi-Permanent Pits | Boards Needed when using our Quick Connect Kit |
| Oct 30H | Qty 24 – 2×10 boards | Qty 24 – 1×10 boards |
| Oct 24H | Qty 16 – 2×12 boards | Qty 16 – 1×12 boards |
| Hex 30H | Qty 18 – 2×10 boards | Qty 18 – 1×10 boards |
| Hex 24H | Qty 12 – 2×12 boards | Qty 12 – 1×12 boards |