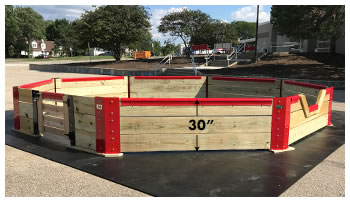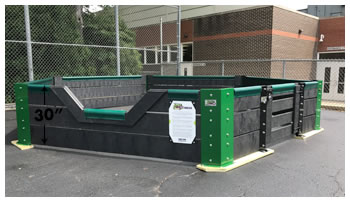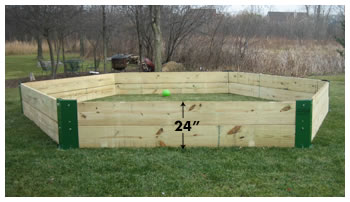 So, you are thinking of building a GaGa Ball Pit — we are here to help!  Our kits are made to easily construct your own pit, saving you time and money. Whether you are a master builder or have never drilled anything before, our kits provide step by step instructions and videos to guide you along the way.
First, decide if you would like your pit to be outside (either always in one location or may move only occasionally) or if you need to set up/take down each day and store when not in use.  We have a solution for both scenarios. For portability solutions CLICK HERE for details.
Next, look at your available space — the inside play area of a pit depends on the length of lumber used for your pit walls and the GaGa Ball pit shape you choose.   Standard wood or board lengths are either 8ft or 10ft long.  Our GaGa Ball pit models come in either Hexagon or Octagon shapes.
NOTE: Bigger is not always better for GaGa games — the goal is to keep each game moving quickly and competitively by keeping the inside play space sized appropriately to how many players jump in at the start of each game.  The most popular choice is to build an Octagon using 8ft walls.
GaGa Ball Pit System

Measurement Wall To Wall

Pit Shape
Using :  8ft Boards
Using: 10ft Boards
HEXAGON – 6 walls
14.5 ft
18 ft
OCTAGON – 8 walls
20 ft
25 ft
NOTE:  When measuring, allow 3-5 ft on all sides outside of the pit to players to participate in and watch the game.
Then decide how high you would like your GaGa Ball pit walls — 30 inches (30H)  is most common, 24 inches (24H) or even 44 inches (Octagon shape only and for extreme GaGa ball enthusiasts).
After you have narrowed in on the Coach Cliff's GaGa Ball pit model you need —  next choose what material to build your walls with.  You can either PURCHASE PRESSURE TREATED OR UNTREATED WOOD locally to keep costs down and save on shipping OR purchase STRUCTURAL COMPOSITE BOARDS from us.
Add ACCESSORIES, like WALL TOP COVERS or ADA DOORWAY,  to further customize your pit.
Once built — let the fun begin!