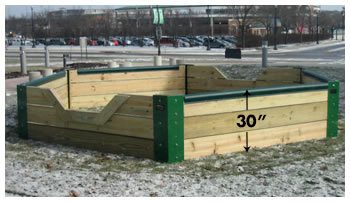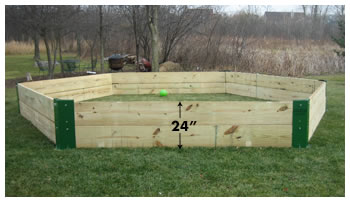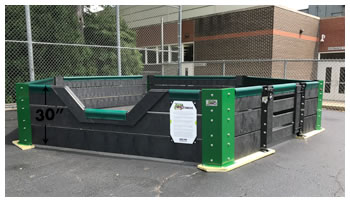 Our Hexagon models are great for smaller crowds and available space
Looking to play GaGa Ball in a pit for less cost?  The Hexagon bracket systems use fewer brackets and less material, offering you the same great playing experience in a slightly smaller play space. Fewer walls also makes it easier if you are looking to move your pit frequently.
Like all our GaGa Ball pits, you have the option to choose any wall length that fits your space and budget.
The Hexagon bracket systems come in  30" or 24" heights.
All Hexagon Bracket Systems come with:
6- patented powder coated steel corner brackets
Pit Fastener Pack (bolts, washers and nuts)
Hole Drill Template
Pit Assembly Instructions
The 30H model includes cut-out templates to allow for easy access in and out of the GaGa Ball pit.  Cut-out templates are available upon request for the 24H model.
If you are looking to build a pit that can be set up and taken down each day and stored when not in use — check out our QUICK CONNECT accessories.
NOTE: All lumber, with the exception of our STRUCTURAL COMPOSITE BOARD option, needs to be purchased separately from your local home improvement/ lumber store and is not included in the kit.